The AgPro Robotics StrawBot was raised in the fields, from prototype to production testing, with the help of farmers, harvesters and industry leaders, to create a tool you can rely on.
Our initial release of StrawBots are currently aiding harvesters
in Watsonville and Santa Maria berry farms.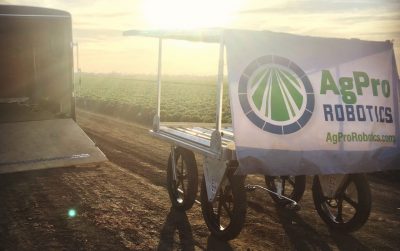 Versatile & Sustainable
Works with existing and future harvest systems.
Accommodates various bed widths.
Fully Electric, Quiet Operation, No Exhaust.
Runs on renewable energy with solar panel upgrade.
Improved Productivity
Improves productivity of existing harvest workforce by 20 – 35%.
Removes non-productive work of walking full / empty trays in and out of rows.
Encourages healthy competition for harvesters and reduces opportunity for injury.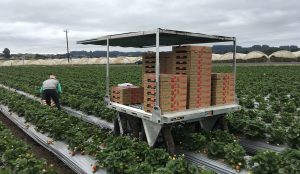 Reduced Waste &
Increased Profits
Better pay for harvesters + Reduced costs for growers
Reduces un-harvested acreage due to inefficiencies and
lack of labor.
AgPro Robotics: StrawBots in Motion
This video shows the hard work and effort put in by some of the harvesters in the background. They are hustling to maximize their potential. Our Strawbot replaces the running and maintains a high level of productivity.
2 Harvester Platform follows harvesters to carry the produce they pick.

4 Harvester Platform includes wings with added accessibility to the outside rows and a heavy duty drive train to move the extra payload.